Page 215
◄ Prev Page ◄| Index |► Next Page ►
---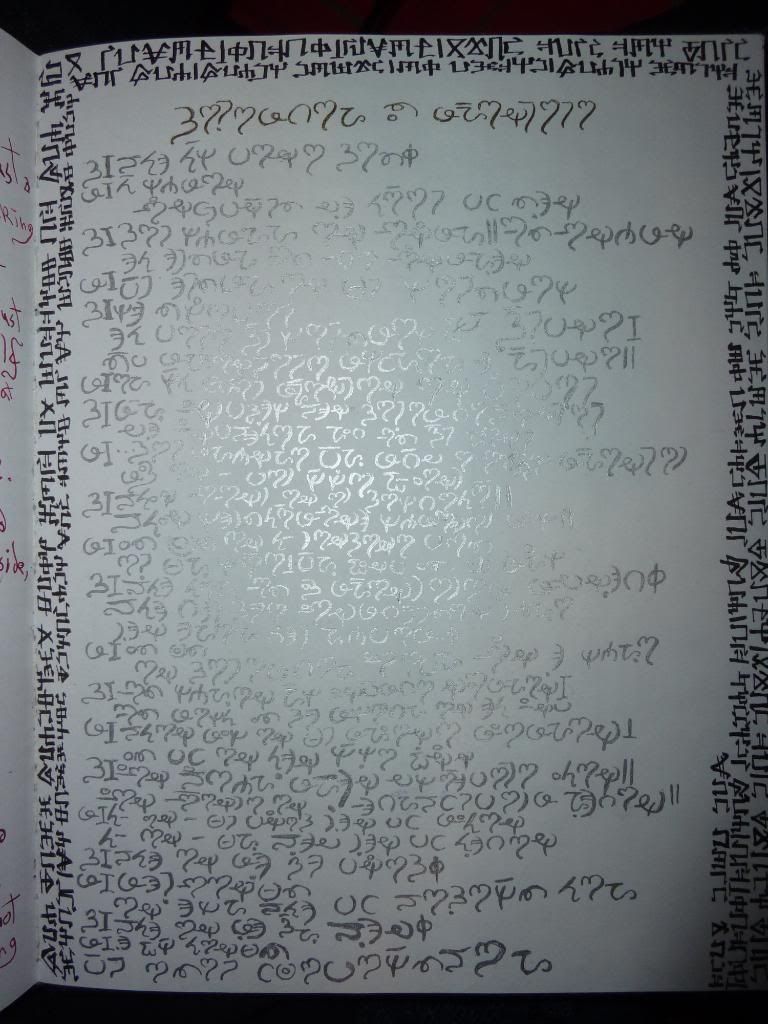 (
Artist's Notes: Apologies for the incredibly poor quality on these, but if I turned off the flash the pictures became so blurry they were even more difficult to read than these. I tried to compensate by having hefty amounts of overlap, so that possibly the light-angle would be different enough to let you see things in one picture you couldn't make out in the others, but with mixed results. I've now gotten a new camera, however, and hope to get some better images up here. Sooner or later….
)
---
Translations:
Mennesket og stjernene
(gold)
M: Hva vil dere meg?
(silver, lemurian)
S: Vi lyser
xxxforundring på veien du går
M: Men lyset er frost! Jeg fryser
xxxav angst jeg ikke forstår
S: Din angst er din lengsel
M: La gløden
xxxav denne min lengsel bli mindre:
xxxGid stjernene sluttet å tindre!
S: Et liv uten stjerner er døden

M: Sitt jordmål har menneskehjernen
xxxpå jordhavet tok jeg min tørn
S: … Men styrte ditt skip efter stjernen
xxxsom er i den Lille Bjørn
M: Hvor fjern er en Melkevei!
xxxHvor langveisfra lyser en sol!
S: Og dog er vi nærmere deg
xxxenn ditt leie, ditt bord og din stol

M: Hva vet jeg om stjernenes språk?
xxxHva kan mine forskninger nytte
xxxnår intet kan tydes?
S: Og dog
xxxer mennesket født for å lytte
M: Jeg lytter til jordiske røster:
xxxJeg selv og min slekt er av jord
S: Hver sol er din større søster,
xxxog du er vår lille bror

M: For høyt står Pleiadene over!
xxxFor fjerne er Jakthundens tåker!
S: Vi er i din drøm når du sover
xxxVi er i ditt håp når du våker
M: Hva er så min drøm?
S: Sannferdig
xxxer alt hva du hemmelig vet
M: Hva er så mitt håp?
S: Å bli verdig
xxxdin egen udødelighet
(Gry comments: Granny Weatherwax to the Queen of the Elves in Terry Pratchett's Lords and Ladies.)
---
Infernal border
You call yourself some kind of goddess and you know nothing, madam, nothing. What don't die can't live. What don't live can't change. What don't change can't learn. The smallest creature that dies in the grass knows more than you. You're right. I'm older. You've lived longer than me but I'm older than you. And better'n you. And, madam, that ain't hard.
page revision: 18, last edited: 11 May 2013 22:56