Page 149
Closeups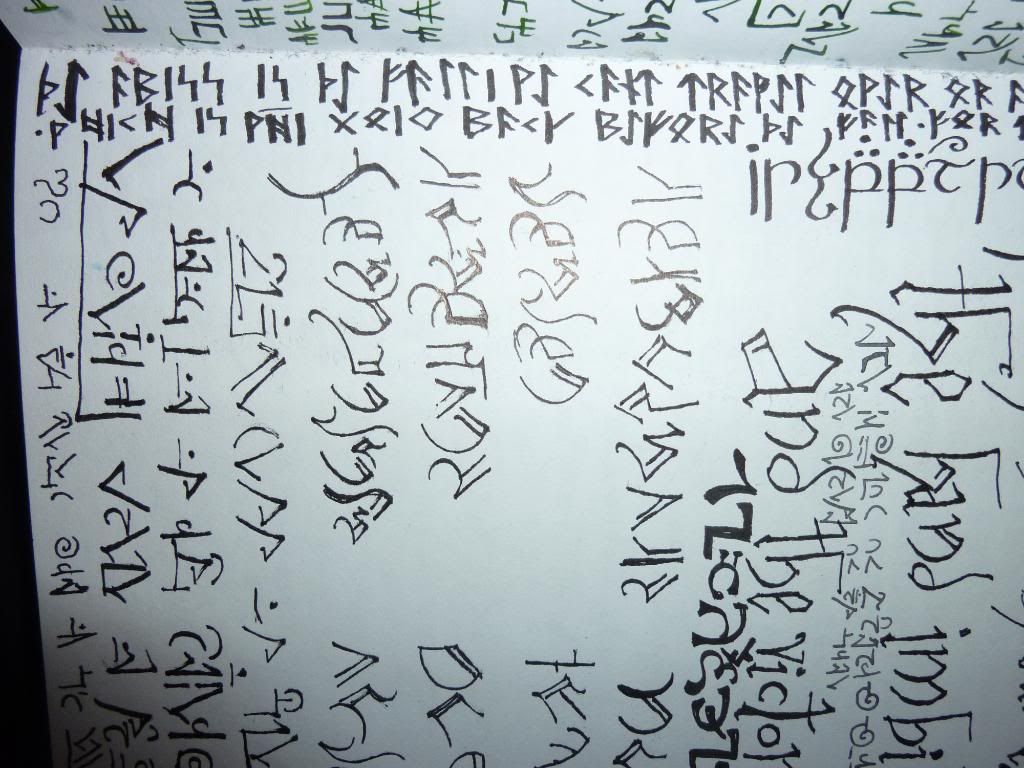 Left Margin, bottom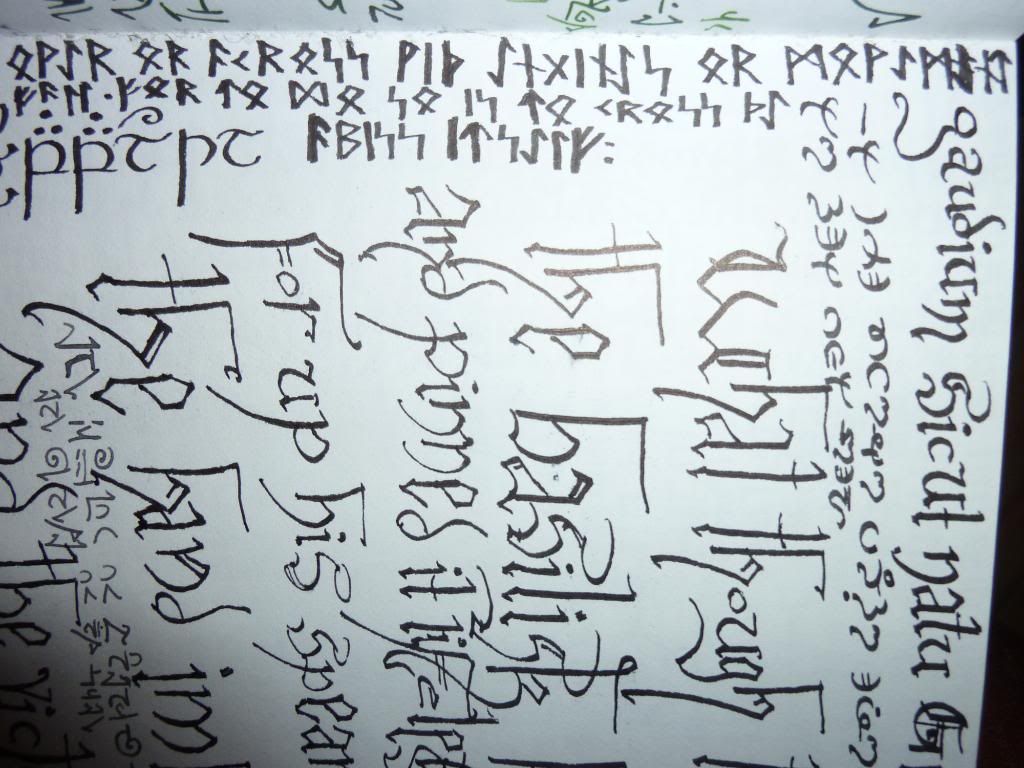 Left Margin, top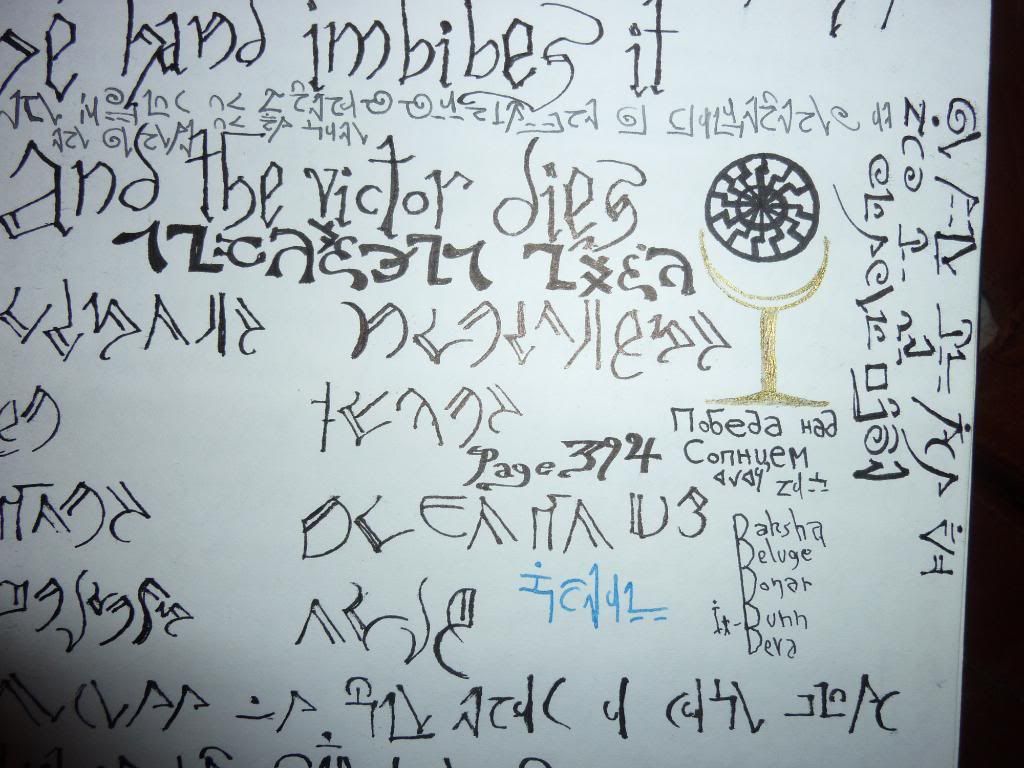 Grail & surroundings
(Click an image for full-size view)
◄ Prev Page ◄| Index |► Next Page ►
---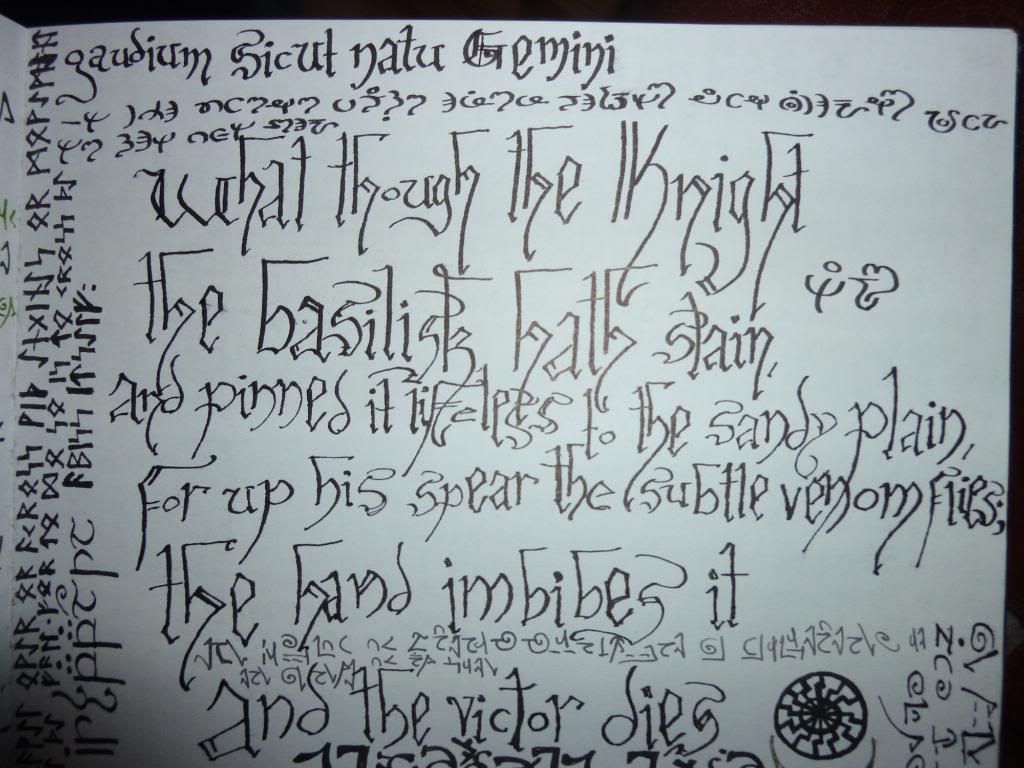 .

---
Alphabets: Enochian, Hyneb, Hyperborean, Lemurian, Norse, Tengwar
Languages: Latin
Transcriptions:
What though the knight
the basilisk hath slain,
and pinned it lifeless to the sandy plain,
for up his spear the subtle venom flies;
the hand imbibes it
and the victor dies
Daksha
Deluge
Donar
it-Dunn
Deva
.
Translations:
Latin, top margin:
gaudium sicut natu gemini (~> joy was born a twin)
.
above the big poem, thin line across the page - Lemurian
.
one word in black ink written vertically along the left side of the page, underneath two lines of norse runes - Tengwar alphabet:
.
one word in black ink, to the right of big poem, between line 1 and 2 - Lemurian
.
vertically along the left side - Norse runes
The abyss is the Fall. We can't travel over or across with engines or movement,
which is why going back before the Fall is impossible, for to do so is to cross the
abyss itself.
.
vertically along the right side - Hyneb
Be sure your sins will
find you out
Prospero = Godot
.
Russian: Победа над Cолнцем
Victory over the Sun
(Then in Hyneb:) 1619 zaum
.
Hyneb: Rett over Black Sun
The cauldron of zhothaqquah, sought by nyarlathotep at
the behest of his mate
.
Enochian: Rett etter diktet
.
Small blue word in Hyneb
Hyperborean words listed beneath the big central poem
.
Hyneb: Nest nederst
forgiveness is more than a name grown in latin, it is also noticeable in its absence, especially where it should have been. Beware!
.
Nederst, Hyneb:
ik wil voelen dat ik m'n leven geleefd heb zoals ik wil
Oversatt til: Jag vill känna att jag har levt mitt liv som jag vill
---
page revision: 19, last edited: 08 Jan 2013 14:05