Page 143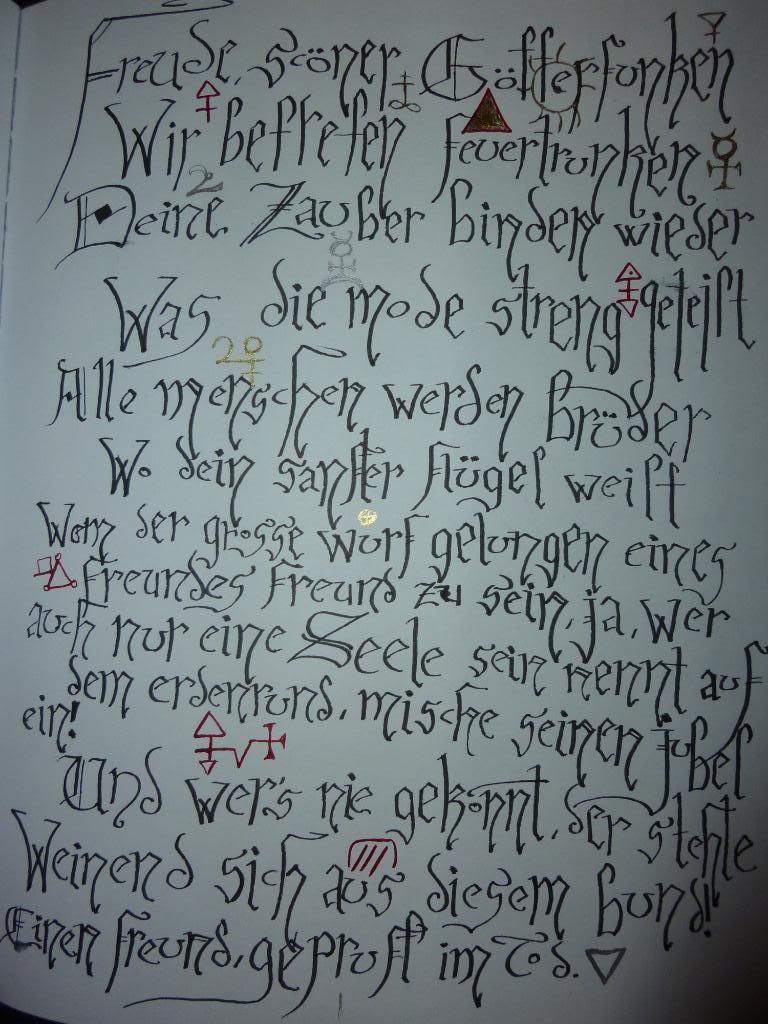 ◄ Prev Page ◄| Index |► Next Page ►
---
German
Translation
Freude, scöner Götterfunken
Wir betreten feuertrunken
Deine Zauber binden wieder
Was die mode streng geteiſt
Alle menschen werden brüder
Wo dein sanfter flügel weiſt
Wem der grosse wurf gelungen eines
freundes freund zu sein, ja, wer
auch nur eine Seele sein nennt auf
dem erdenrund, mische seinen jubel ein!
Und wer's nie gekonnt, der stehle
Weinend sich aus diesem bund!
Einen freund, geprüft im Tod.
Joy, beautiful god-spark
Drunk with fire, we enter
Your magic binds together again
That which custom has rigidly divided
All human beings become brothers
Wherever your gentle wing is
Whoever has succeeded in the great attempt
To be a friend to a friend, yes, whoever
Can call only one soul his
On the round earth, may he join in this rejoicing!
And whoever never could, let him leave
Secretly, weeping, from this union!
A friend, proven in death.
?
?
red
silver
gold
red & gold
gold
gold
gold
◄ Ink
?
?
?
Fire
?
?
?
?
?
gold
silver
red
gold
red
red
red
silver
◄ Ink
?
?
?
?
?
?
?
Water
---
page revision: 16, last edited: 08 Jan 2013 16:25